Lockdown to be imposed in Bhopal from 8.00 p.m. of July 24 to August 03
Vegetables, Milk, Medicines and most essential services to be continued
Industries to remain operational
CM Shri Chouhan reviews Corona and arrangements


भोपाल : बुधवार, जुलाई 22, 2020, 21:32 IST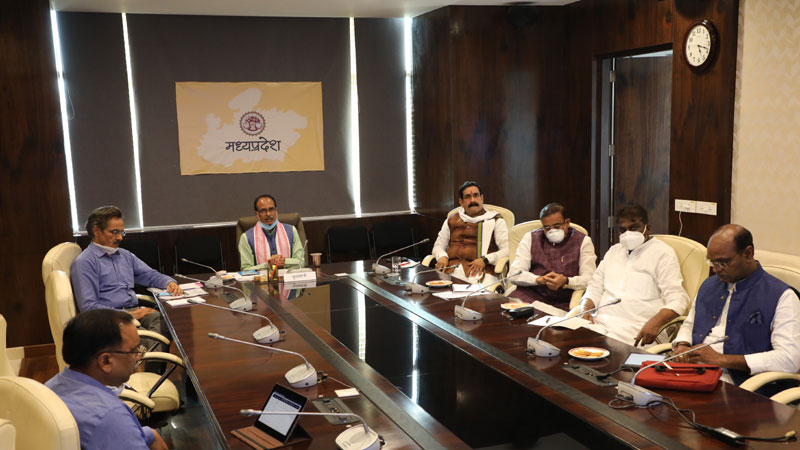 The Chief Minister Shri Shivraj Singh Chouhan has said that in view of increase in corona infection in Bhopal, a decision has been taken to impose lockdown from 8.00 p.m. of July 24 to August 03. The lockdown will be lifted at 8.00 a.m. on August 04. During the lockdown period, the most essential services like vegetables, milk and medicines will be continued. Industries will remain operational. The Chief Minister Shri Chouhan appealed the public that all precautions should be taken to contain infection.
The Chief Minister Shri Chouhan was reviewing the situation of Corona and arrangements in the state through video conferencing at Mantralaya today. It was found in the review of Bhopal district that the average corona positivity rate of the last week of the district is 10.23 percent. The Minister for Home Dr. Narottam Mishra, Minister for Urban Development and Housing Shri Bhupendra Singh, Minister for Medical Education, Bhopal Gas Tragedy, Relief and Rehabilitation Shri Vishwas Sarang, Minister for Public Health and Family Welfare Dr. Prabhuram Chowdhary, Chief Secretary Shri Iqbal Singh Bains, Additional Chief Secretary Health Shri Mohammad Suleman and other officers were present at the meeting.
Better situation in Gwalior, lockdown will be lifted
During the review of Gwalior district, it was found that owing to the lockdown, the corona infection rate has come down to 4 percent from 7 percent in the last 7 days. The Crisis Management Group has taken a decision to lift the lockdown. The Chief Minister Shri Chouhan instructed that full precautions should be maintained and get the guidelines followed strictly. Tele medicine service should be used for medical consultation on phone. Good system for health screening should be ensured for people coming from other states. It was informed that 1083 patients went back home after the recovery and 09 have succumbed to corona in Gwalior. At present, the number of active patients is 706 and fatality rate is 0.5 percent.
Good work by Morena team
The Chief Minister Shri Chouhan praised the Collector including the entire team for effective control after the rise in spread of infection in Morena district. The corona positivity rate of Morena has become 3.7 percent. At present, Morena has 312 active cases, 1081 patients have recovered from the disease and 08 people succumbed to corona. The fatality rate is 0.6 percent.
Make home quarantine effective
The Chief Minister Shri Chouhan instructed that home quarantine should be made more effective to stop infection. There is a need to generate awareness among the people in this regard. Where there is arrangement, home isolation should be ensured. Minister Dr. Prabhuram Chowdhary also described the home quarantine more useful.
Testing should be increased
During the review of Barwani and Dhar district, the Minister Shri Vishwas Sarang instructed to increase the testing. Effective action should be taken to stop infection. In the review of Khargone district, instructions were given for taking special precautions to curb infection. Moreover, instructions were given for strict adherence to guidelines as the positivity rate is also high in Raisen and Vidisha.
CMHO Chhatarpur should be removed
In the review of Chhatarpur district, it was found that negligence has been done in sampling. Taking the matter seriously, the Chief Minister Shri Chouhan instructed that the CMHO of Chhatarpur should be removed immediately.
Officers In-Charge should make every possible effort to control corona in districts
The Chief Minister Shri Chouhan instructed that Officers In-Charge of every district should make every possible effort to control corona in their respective districts. They should tour districts immediately and ensure action as per the local situation after holding deliberations with Crisis Management Group. Along with this the fatality rate should be minimized by making available the best treatment in every district. Infection must be contained in effective manner, he added.