In presence of Minister Shri Sarang, 52 patients return home from Chirayu
भोपाल : सोमवार, जुलाई 20, 2020, 21:09 IST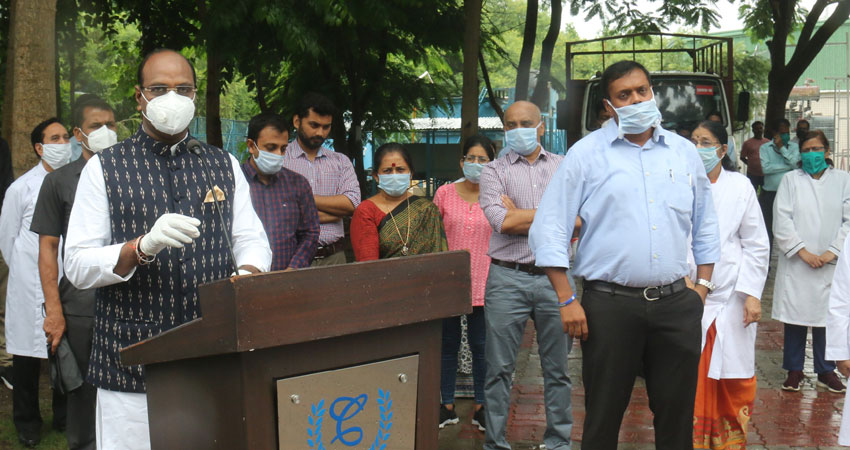 The Minister for Medical Education Shri Vishwas Sarang has said that patients returning home after defeating Covid should become a source of inspiration for others by becoming brand ambassadors. He said that they should teach people to be patient and disciplined as well as tell them not to be afraid in order to defeat corona. Shri Sarang reached Chirayu Covid Care Centre on Monday and encouraged 52 patients at send-off ceremony hosted for them.
The Minister Shri Sarang said that there has been cooperation of doctors and families of patients in overcoming corona. The state government is making all possible efforts to defeat corona. Awareness is must to defeat corona. As soon as the symptoms of corona are noticed, fully equipped hospitals and fever clinics should be contacted for treatment. Any kind of negligence in this can prove fatal.
The Commissioner Shri Nishant Varvde also extended best wishes to the patients. The Director Chirayu Hospital Dr. Ajay Goenka informed that the entire team in the hospital is constantly engaged in serving the patients. Medicine for seven days is being provided free of cost to the discharged patients and they are being advised for home quarantine for a week. Bus facility is also being provided to the patients to reach home.
Minister Shri Sarang cheered patients on their way back home by bus. On this occasion, they were happy to find the Minister amidst them. The Minister also felicitated the entire team of the hospital for providing better facilities to the patients.